"The internet could be a very positive step towards education, organization, and participation in a meaningful society."Noam Chomsky
An ISP (Internet Service Provider) provider focusing on long-term customer relations and aims to eliminate monopoly in the internet service market that is highly dominated by Nepal Telecom. Chaudhary Group(CG) is one of the reputed companies in Nepal. They are moving forward to provide internet to Nepalese at a very low price as compared to other ISPs. 
Firstly, the CG Net is going to change the landscape of Nepal through the digital sector of Nepal. As Jio is the example in India that reduced the price of the internet and changed the digital economy of India, CG wants to do the same in Nepal and wants Nepal to have a high data penetration. 
Secondly, the Managing director of CG, Nirvana Chaudhary stated that "its goal is to join the Telecom Company". He added the preparation for the Telecom Company is already done. As soon as the license is approved by the government the Telecom would provide very new features to the customers at a very low price.  He even stated that "IOT in Nepal is not even ready for 1%, so they(CG) want to change it".  As we can see, Nepal has the lowest data penetration in Asia. CG's main aim is to break the monopoly and accelerate in the market the communication sector. As they have not been provided a license for the past 4 years and as soon as the government provides a license they would start their service from the first day as the preparation is already done.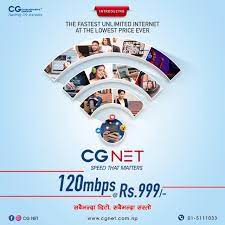 Finally, I believe that CG will change the landscape of Nepal in the digital economy. It has the same plan as the Jio(Reliance Jio Infocomm Limited) had in India. Jio brought the digital revolution to India as soon as they were provided a license by the Indian government. Due to which each and every part of Indian people are connected through low data cost and the easy interface made by Jio, as a result, the digital economy of India showed a positive scale. Many people believe that CG cellular service should be in the market as soon as possible with cheaper data. As said by Jean-Jacques Rousseau "Patience is bitter, but its fruit is sweet". I believe that the CG will bring a digital revolution to Nepal as the years of patience turn into a sweet result.